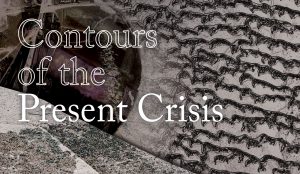 A LECTURE SERIES SPONSORED BY
THE CERTIFICATE IN SOCIAL, CULTURAL, AND CRITICAL THEORY
In reality, "sudden" catastrophes are actually long in preparation.
They do not stand in exclusive contrast to an apparently peaceful flow
but are the outcome of a complicated, uneven evolution.
—Georg Lukács
Suleiman Mourad
on truths and fictions of Islam
TUESDAY, MARCH 7 • DOWNEY 113
Jordan Camp
on incarcerating the crisis
THURSDAY, MARCH 30 • BOGER 112
Marguerite Nguyen
on refuge and refugees
THURSDAY, MAY 4 • BOGER 112
ALL LECTURES WILL BEGIN AT 4:30PM.
FOR MORE INFORMATION ABOUT THE SERIES OR THE CERTIFICATE,
PLEASE CONTACT MATTHEW GARRETT (MCGARRETT@WESLEYAN.EDU).