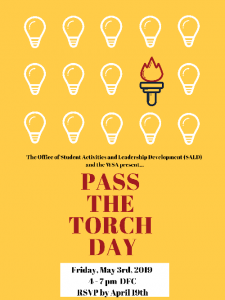 Deadline to RSVP is tomorrow!
At this event you will:
Register your student group and be ready to go by the start of school in the Fall.
Be eligible to apply for funding in July. Otherwise you will not be able to request funding until the end of September / early October.
Be able to book spaces for events you would like to plan during the Fall semester and receive confirmations earlier than if you wait until September.
Have a guaranteed spot at the club fair the first Friday after classes start.
Have the opportunity to network with other student group organizers and have time and space to pass down information to new leaders of your group.
Dinner will be provided!